David Civil Engineering is run by Shane David who has spent his entire working life in the Civil Engineering industry; it is a business that he has a real passion for.
"After years of gaining experience in many different roles within the industry I set up my own company in 2002. I am always fascinated by new developments within the industry the excitement of going to a new site and developing something different, being part of a team that makes a big impact.

I enjoy the machines, the scale and solving the problems that arise during complicated schemes.  It is an industry that uniquely brings together so many different aspects mechanical, technological, geological, and environmental bringing them all together and applying them to the real world is always an interesting challenge.  There is something exciting about being part of a large piece of infrastructure whether it's a bridge, a road, a Dairy or just a new drain system,  for me Civil Engineering is about thinking big and making things happen."
Our company philosophy is to provide a knowledgeable team to deliver a high quality customer service with an honest upfront approach avoiding hidden extras and complicated charges in order to establish clients that return to us over the years.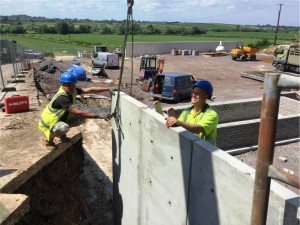 We believe it is our workforce team who play the key role in David Civil Engineering achieving its objectives as a company.  Our team members are skilled, hardworking and enthusiastic, with a can do positive attitude aiming to succeed. Most have years of experience in the Civil Engineering industry and bring very specific qualities to the team.  We are proud of the team we have established and look forward to working together for many years to come.